The journey to higher double digit returns in equity investing goes through dark patches and sees bright sunlight.
The inflection point or the new dawn in return trajectory for Indian shares could be visible soon. The awaiting dawn could be more rapidly approaching us in the Mid Cap space. This space has often been referred to as a searching ground for investors for finding quality companies. PMS AIF WORLD (www.pmsaifworld.com), presents a case for investing in Mid-Caps, and a selected list of a few PMSes with substantial weights in Mid and Small Cap Companies.
The mid cap space has been battered and bruised and, in some cases, burned. This was last time seen in 2013, when most mid-caps traded dirt cheap. Things started turning around 2014 onwards and most mid-caps delivered superb returns till Jan 2018. In a similar scheme of things, are mid-caps right now, and seem to be ready to out perform after seeing massive correction in last 20 months. The valuation divergence between mid and large cap indices has been at all time high and some mean reversion is expected, in fact the mean reversion has begun, as is visible already. The value of institutional holding in the 1,250 companies (after the top 250) dropped by 40% to INR2.9 lakh crore between December 2017 and June 2019, currently, 55% of the institutional holding is in the top 20 stocks and only 1% in the bottom 1,000 stocks (501 to 1,500). This has not been the case always and we expect quality mid-caps to again see institutional buying interest.
Amongst PMSes with more than 35% allocation to mid-small caps, these 12 names have been picked based on long term out-performance on their respective benchmarks.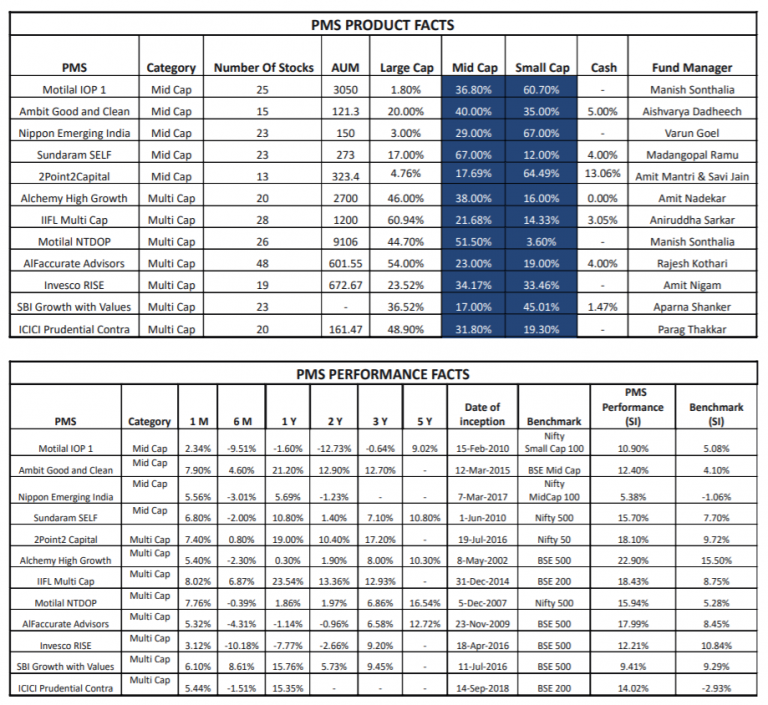 For investors seeking mid cap exposure, a Multicap route should be a preferred one as the large cap portion in a Multicap PMS provides more stability to the portfolio and mid cap portion adds to superior pace of performance.